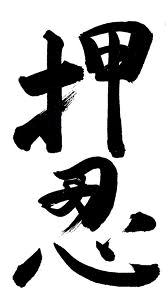 Although now commonly heard in Kickboxing & BJJ schools the word
Osu,
a contraction of
Oshi
-
Shinobu
, was introduced to the Dojo world through
Kyokushin
.
Shinobu
meaning to
Endure
.
The purpose of Karate training is to train the body. To make it strong and powerful. This is not to be approached on its own. The Body is trained by training the mind. When the mind and body is strong this in turn produces a strong spirit, a strong spirit produces a harmonious individual. This is our goal. Achieving this goal requires a lot of patience.
Each time we say Osu, we are reaffirming our determination to achieve this through our Karate training. Osu is an affirming word of devotion.
Osu
means to persevere.
Osu first appeared as an expression in the Officers Academy of the Imperial Japanese Navy and there was some noted use by the Samurai Bushi Warriors of the Saga Clan in the 18th Century and has since been associated in military terms.
Osu, is still mainly used in Kyokushin styles, other styles mainly use the traditional
Hai
following a command. Osu is rarely used outside of Kyokushin systems and not used in everyday Japanese language but in the to be used confines of the Dojo environment.
Osu became popular among the young in the mid 20th century and in the Yakuza (Japanese Mafia) and associates. Although controversial, there are some known associations within early development of Kyokushinkai and the Yakuza and this may have contributed to its widespread use.
Shihan Judd Reid
(A well known within Kyokushin Karate. Judd is the first foreigner to have completed the 1000 day
Uchi Deshi
live-in student program in Tokyo, Japan under Kyokushin Karate Founder Sosai Mas Oyama from 1990-1993 and later completed the
100 Man Kumite
.) writes:
When people start Kyokushin Karate, or start to go to Kyokushin tournaments, their first introduction to Karate etiquette and Japanese vocabulary is the word Osu.
Osu is a very powerful word. To me it simply means

yes I can do it, I will try my best, I will endure and not give up.
Its amazing at tournaments when you here the teacher giving introductions to the student before the fight. All you here from the student is

Osu

. They answer it loudly and sharply with no hesitation. The fighter installs belief within himself that he will succeed. Osu is a humbling word too. Its shows respect, loyalty, obedience and trust. There are not many other words like it.
Each time we say Osu we are reminding ourselves to be patient with ourselves and each other. Kyokushin teaches never to give in, no matter how big the task may seem, always do your best. This is the spirit of Kyokushin. This is what we call: The spirit of perseverance - or:
Osu

no

Seishin

.