Kagemusha Dojo Challenge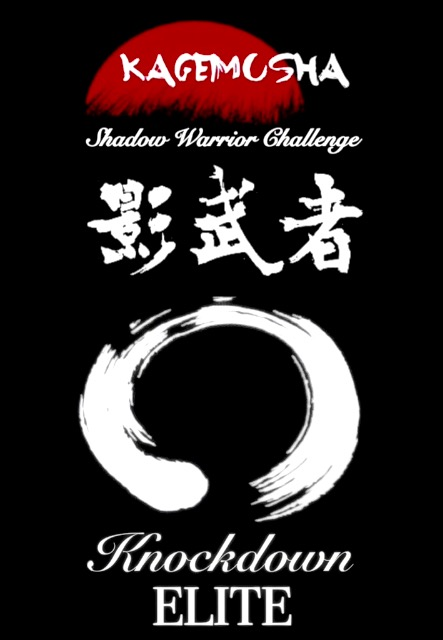 The Kagemusha Challenge
is a personal challenge offered to
Blackbelt
students at
Elite Fighting Arts
.
Kagemusha
means
Shadow Warrior
. A title awarded to a student completing a 30man full contact Kumite. Successful students will be awarded a black Dogi (training uniform) & only these select students are permitted to wear the black Gi during training.
A white Gi is traditional particularly in Japanese Karate, black Gi are not often worn in Kyokushin, or other Japanese Dojo, but is more an Okinawan Karate tradition. Note that Omid also first trained in Tsuyoi-Ryu, with strong links to Okinawan Karate.
The recognition of the black Dogi is a well established tradition at
DKK
(Daigaku Karate Kai) Okinawan Goju-Ryu dojo, under
Shihan Gavin Mulholland
, who has kindly permitted
Elite Fighting Arts
to adopt this tradition, after our dojo assisted with the preparation of a DKK member in the successful completion of the
30 Man Kumite
.
Rules
The test is NOT a grading requirement and is to be used as a personal test only, it is not compulsory. Only black belts over the age of 18 are permitted to attempt the test. All fights must be 1 minute & 30 seconds long, time may only be reduced if ippon (knockdown) is scored.
Knockdown
or
Kudo
, either
Combudo
; with no head punches/head-butts, or
Full
Kudo
rules may apply (
according to fighters choice, it does not matter what style the applicant is graded, they can select the rule set for their test

)
.
The fighter cannot be assisted if downed by a strike during the test, the fighter must be ready to fight again if downed by a strike within 10 seconds or the test will be ended, even if this is during the final fight.
The opponent fighters must be of adequate experience. While grade is not a requirement opponents should have a minimum of 2 years training experience. There will be a water break offered of 2 minutes following the 10th & 20th fights, if required. No other rests between bouts are permitted.
No protection can be worn on the hands with the exception of minimal wrapping or tape, anklets or shin & instep pads are allowed but not compulsory, a gum shield is permitted. The use of a knockdown approved female breast guard is compulsory for ladies attempting the test. Standard groin guard or cup is permitted. Kudo headgear & mitts may
ONLY
be worn if applicant is fighting FULL Kudo rules.
Award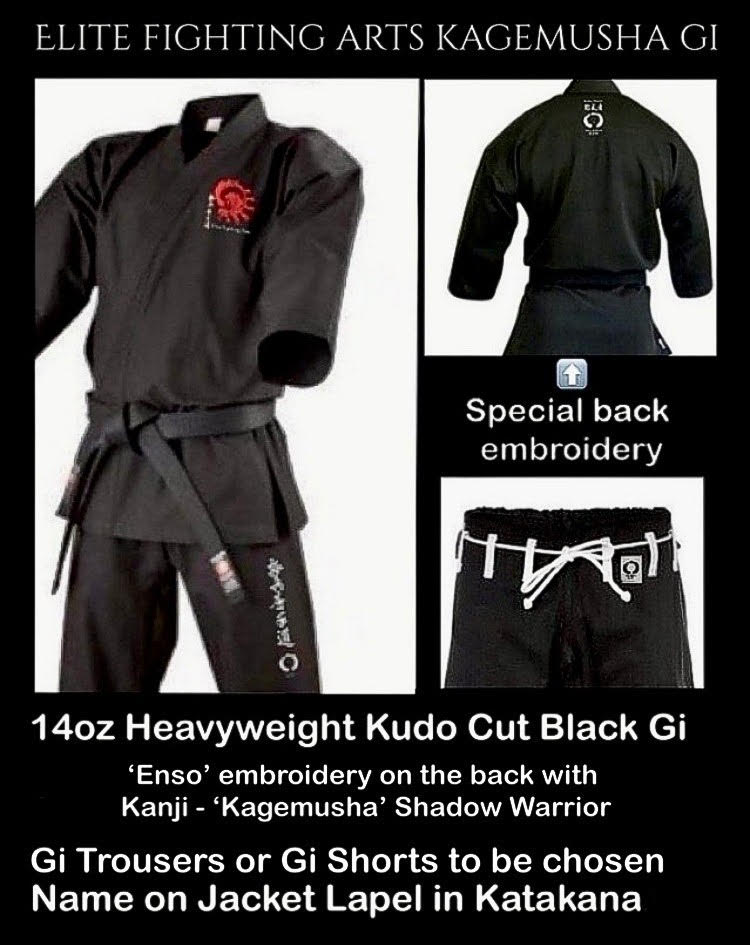 Upon successful completion, the fighter will be awarded a certificate to recognise the achievement & a specially created black Dogi, or uniform.
The Gi will be fully embroidered with our Dojo Badge (no style) & will also include the fighters name in Katakana on the lapel of the Gi.
The fighter will be sponsored by
Knockdown ELITE
Martial Arts Suppliers & the Dogi will be supplied by us as a gift from the Dojo. All successful fighters will be recorded below. Osu
30 Man Kumite (fights) Training & Highlight.
Unedited Footage of Francisco Filhos 30 Man Kumite.
Successful Participants of the Kagemusha Dojo Challenge:

Omid Khademzadeh - 20/08/2017
Further Links within this section
Training Times:
Gellilydan Village Hall.
Gwynedd. Wales. LL41 4EF



Wednesdays

Kyokushinkai - Ultimate Karate
7.00-8.00pm
Knockdown Fighting & Fitness
8.00-9.00pm

| | |
| --- | --- |
| Saturdays | |
| Kudo - Japanese MMA | 10.00-11.00am |
Training Costs:
£5.00 per session. (Live/Face to Face).
£3.00 per session. (Online/Zoom).
£20 per month. (Live/Face to Face).
£10 per month. (Online/Zoom).
121 Classes by Prior Appointment:
£20 per hour. (Live/Face to Face).
£15 per hour. (Online/Zoom).
Insurance & Affiliations:
Annual NAKMAS Licence & Insurance Fee. This includes your £10 million liability & £500 dental insurance. Also includes Kudo (Japanese MMA) KIF Membership:
£30 per year.