Akiyoshi Matsui (IKO)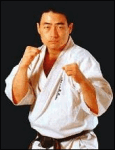 Akiyoshi (Shokei) Matsui started Kyokushin Karate at age 13. In 1976, he joined the Kita Nagare-Yama Dojo in Chiba prefecture and managed to achieve the first level of Black Belt in a little over one year. In 1980, he placed fourth in the 12th All Japan Open Karate Championships, when he was just 17. Soon after, he became Chief Instructor of the International Kyokushin Headquarters school ("Honbu" Dojo) located in Tokyo. Both in 1981 and 1982, he took 3rd Place in the All Japan Open Karate Championships and then 8th place at the same event in 1983. At the Third World Open Karate Tournament in 1984, he took a remarkable 3rd place and became famous worldwide for his amazing spirit, strength and determination. He succeeded in winning the All Japan Championships in the consecutive years of 1985 and 1986 and then successfully completed the ultimate Kyokushin challenge, the "100 Man Kumite" in record time. In Japan, he became known as a man of "unparalleled genius", someone who comes along but once in an eon. In 1987, he became the youngest ever, Champion of the World.
In May 1992, he opened his own school in Asakusa, Tokyo and was appointed Branch Chief by Sosai Mas Oyama. On April 26,1994, Sosai Mas Oyama regrettably passed away, leaving the Directorship of the worldwide organization to Matsui, who then became "Kancho"(Director). In the wake of the founders untimely death and the well documented backlash concerning Kanchos extraordinary appointment, in June of the same year, Kancho Matsui remarkably staged the 11th All Japan Weight Tournament and then in November, the 27th All Japan Championships to which over 16,000 spectators attended. The following year, he produced the hugely successful, Sixth World Open Karate Tournament, to which 168 fighters from all over the world competed and more than 25,000 spectators witnessed.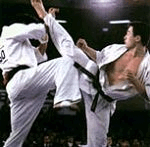 Kancho Matsui has planned, produced and presented numerous groundbreaking martial arts event to the world, including inaugurating the "World Cup - Team Karate Championships", the "Womens World Karate Championships" and the "World Weight Category Championships" and successfully staged the most celebrated karate event of the millennium, the Seventh World Open Karate Championships in 1999.
Currently, the International Karate Organization has over 12 million members in 125 countries. Kancho Matsui travels to scores of Branches each year in countries around the globe to teach the Kyokushin Way and spread the spirit and techniques of our style while simultaneously managing the organization from the IKO World Headquarters (Honbu) in Japan.
Further Links within this section
Training Times:
Gellilydan Village Hall.
Gwynedd. Wales. LL41 4EF



Wednesdays

Kyokushinkai - Ultimate Karate
7.00-8.00pm
Knockdown Fighting & Fitness
8.00-9.00pm

| | |
| --- | --- |
| Saturdays | |
| Kudo - Japanese MMA | 10.00-11.00am |
Training Costs:
£5.00 per session. (Live/Face to Face).
£3.00 per session. (Online/Zoom).
£20 per month. (Live/Face to Face).
£10 per month. (Online/Zoom).
121 Classes by Prior Appointment:
£20 per hour. (Live/Face to Face).
£15 per hour. (Online/Zoom).
Insurance & Affiliations:
Annual NAKMAS Licence & Insurance Fee. This includes your £10 million liability & £500 dental insurance. Also includes Kudo (Japanese MMA) KIF Membership:
£30 per year.