Dolph Lundgren (Fighter/Actor)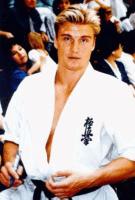 Dolph-born Hans Lundgren 3rd November 1957, started training judo at the age of 16, while playing ice-hockey in a small northern town in Sweden. He then switched to karate a year or so later. Dolph started in the traditional Japanese style of Goju-Ryu, but soon switched to Kyokushinkai, the more powerful style developed by Japanese karate legend Mas Oyama. Dolph kept training throughout high school and moved back to Stockholm to complete his military service. This is when Dolph met his Sensei, and future friend-to-be, Brian Fitkin, then a 4th Dan. At the age of 19, Dolph started competing; in non-contact "point fighting". He lost his first four out of five fights.
In 1979, while serving in the Swedish Marine Corps, Dolph was selected to fight in the 2nd World Open Karate Tournament in Tokyo one of the earliest international full-contact tournaments. Still only a green belt, Dolph had to borrow a brown belt (one level higher) to be able to fight. Nevertheless, Dolph knocked out his first two opponents with a "Hiza-Geri" (knee-kick to the face) and the crowd started to take notice of the tall, gangly Swede.
In his next fight Dolph was up against the overwhelming favourite for the world title, Makoto Nakamura. Dolph (a green belt) weighed 93 kg (205 lbs) against Nakamuras 110 kg (245 lbs). Nakamura (a 2nd degree black belt) attacked immediately and Dolph caught him with a roundhouse kick to the face. The crowd gasped. They sensed this Lundgren could be more than Nakamura had bargained for. The fight went the distance; plus two extensions and Nakamura was awarded a controversial decision. This proved to be the eventual world champions hardest fight.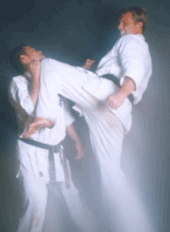 Dolph went on to win the BKK British Open Knockdown Heavyweight title in 1980 and 1981 and also became Australian Open Champion in the individual and team events a year later. Now a Shodan (1st degree black belt) at the age of 23 Dolph went to Australia to study Chemical Engineering on a scholarship for a year. He had his own karate club at Sydney University, and made some extra money doing security for music acts touring Sydney. That is when he met singer Grace Jones.
During his preparations for the World Tournament Dolph used to hit the bag at the famous "Gleasons Gym" in midtown Manhattan, where some of the best boxers in the world used to train. A couple of the managers took one look at the tall, well built Swede. He could move, he could punch - he definitely looked the part.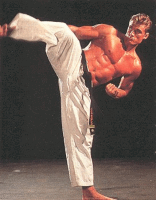 A year later Dolph went for an audition for "some boxing movie" , he met Sylvester Stallone and the rest is history. Dolph gave up his academic career (he did get his Masters degree) his martial arts career and his Swedish small town life to move to Hollywood. In a long career, Dolph has starred in over 30 movies. Nevertheless, Dolph has stayed in close contact with Kyokushin karate throughout the years. He has performed karate exhibitions at three World Tournament and on numerous other occasions. His long-time friend and teacher, Shihan Brian Fitkin, 6th Dan has helped his old student in most of his movies with physical conditioning and fight coordination. Dolph returned to his "home dojo" in Stockholm for a real challenge in 1998, when he passed his 3rd Dan promotion, suffering though a gruelling Twenty Man Kumite" (fighting 20 successive opponents one after the other without a break) as well as 3 hours of technical examination.
Dolph actively also works with the Spanish Kyokushin Federation, since he & his wife own a home in Marbella, in Southern Spain. The couple and their two daughters spends their time between London and Marbella. Sensei Lundgren has since been promoted to 4th Dan with the Shinkyokushin Association - IKO2.
Omid Training with Sensei Lundgren at Crawley Dojo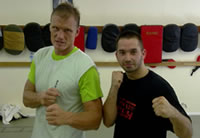 Further Links within this section
Training Times:
Gellilydan Village Hall.
Gwynedd. Wales. LL41 4EF



Wednesdays

Kyokushinkai - Ultimate Karate
7.00-8.00pm
Knockdown Fighting & Fitness
8.00-9.00pm

| | |
| --- | --- |
| Saturdays | |
| Kudo - Japanese MMA | 10.00-11.00am |
Training Costs:
£5.00 per session. (Live/Face to Face).
£3.00 per session. (Online/Zoom).
£20 per month. (Live/Face to Face).
£10 per month. (Online/Zoom).
121 Classes by Prior Appointment:
£20 per hour. (Live/Face to Face).
£15 per hour. (Online/Zoom).
Insurance & Affiliations:
Annual NAKMAS Licence & Insurance Fee. This includes your £10 million liability & £500 dental insurance. Also includes Kudo (Japanese MMA) KIF Membership:
£30 per year.