Andy Hug (Kyokushin/K-1)
1964 - 2000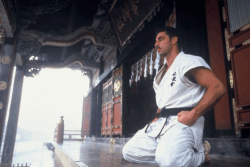 Andy Hug (1964-2000) was born in the small village of Wohlen in Switzerland. Because his mother was unable to care for him, Andy was immediately given up for adoption. Andy Hug spent the first years of his life in an orphanage, until his grandmother took over his care when he was three years old.
It has been said that Andys home situation brought on mocking and bullying from his classmates. When a friend of Andys introduced him to the local Karate dojo, (he was only 10 years old at the time) Andy began taking karate lessons so he could fight back. Andy quickly became so good that the Swiss Karate Federation bent the rules to allow the teenaged sensation to compete with adults for the All Switzerland Karate Championship. Andy won the tournament easily!
Andy was only 19 years old when he fought in Japan for the first time, at the Kyokushin 3rd World Open Tournament in 1983. Andy was a newcomer and a young talent, and he impressed the whole world with his unique fighting skills and technique. Four years later, at the 4th Kyokushin World Open in 1987, Andy made it to the final by easily defeating big fighters like Masuda from Japan and Ademir da Costa from Brazil - both of whom have passed the ultimate test in Kyokushin, the 100 men kumite.

The 4th World Open final was a fight against the two best technical fighters ever in the history of Kyokushin: Matsui and Andy. It was the first time ever that a non-Japanese fighter was in a World Open final, and today Kyokushin karate-ka and fight lovers around the world still talk about the big final, and about the outcome and the result. But no matter the result, Andy opened a new area for European and western fighters, and showed the world that by hard training and true skills, anybody can become a champion. To a lot of people, Andy was the true winner of the final, and should have been the champion of the 4th World Open Tournament.
One year later, on 17th September 1988, a special Kyokushin karate event was held in Sursee in Switzerland. It was the 1st International Super-Cup, which had been organized by the Swiss Karate Association. Kyokushin competitors from Japan, Great Britain, the Netherlands, Hungary, Germany and Spain fought in the tournament. Before the vice-world champion, Andy Hug was to fight against Kenji Midori from Japan in the final (Kenji Midori became the 5th Kyokushin World Open Champion in 1991); Andy defeated Siegfried Elson from the Netherlands in the semi-final. The most exciting fight of the evening was undeniably the final between Andy Hug and Kenji Midori. After two extension rounds, Andy Hug was declared as the winner of the fight and the Tournament.
In 1989, Andy Hug became Kyokushin European Champion in the Heavyweight Division for the second time. Andy was a superior European champion, and he was so popular that he travelled around the countries of Europe as a special guest instructor at Kyokushin summer camps to teach the art of knock down karate. Before Andy Hug left Kyokushin karate in 1992, to fight for Seidokaikan Karate and in the K-1, he fought against the best fighters and the biggest names in the history of Kyokushin, and only lost a very few fights. Andy is still remembered and respected as a superstar and idol for many Kyokushin members - as the true champion that he was for more than a decade in Japan and around the world.
On the 24th August 2000, Andy died as a result of Acute Myeloid Leukaemia, a rare form of the disease, just a few weeks short of his 36th birthday. News of his passing made headline news all over Japan.
In his fighting career, Andy won the following titles:
Kyokushin World Tournament 2nd Place - 1987
Kyokushin European Champion - 1989
K-1 World Grand Prix Champion - 1996
K-1 World Grand Prix Finalist - 1997, 1998
K-1 World Grand Prix Last 8 - 1994, 1999
UKF World Super Heavyweight Champion 1994
WMTC World Super Heavyweight Champion
WKA World Muay Thai Super Heavyweight Champion 1996
WKA European Muay Thai Super Heavyweight Champion 1997, 1998, 1999, 2000
Kyokushin/Seido kaikan/K-1/Martial arts, legend - forever
Further Links within this section
Training Times:
Gellilydan Village Hall.
Gwynedd. Wales. LL41 4EF



Wednesdays

Kyokushinkai - Ultimate Karate
7.00-8.00pm
Knockdown Fighting & Fitness
8.00-9.00pm

| | |
| --- | --- |
| Saturdays | |
| Kudo - Japanese MMA | 10.00-11.00am |
Training Costs:
£5.00 per session. (Live/Face to Face).
£3.00 per session. (Online/Zoom).
£20 per month. (Live/Face to Face).
£10 per month. (Online/Zoom).
121 Classes by Prior Appointment:
£20 per hour. (Live/Face to Face).
£15 per hour. (Online/Zoom).
Insurance & Affiliations:
Annual NAKMAS Licence & Insurance Fee. This includes your £10 million liability & £500 dental insurance. Also includes Kudo (Japanese MMA) KIF Membership:
£30 per year.